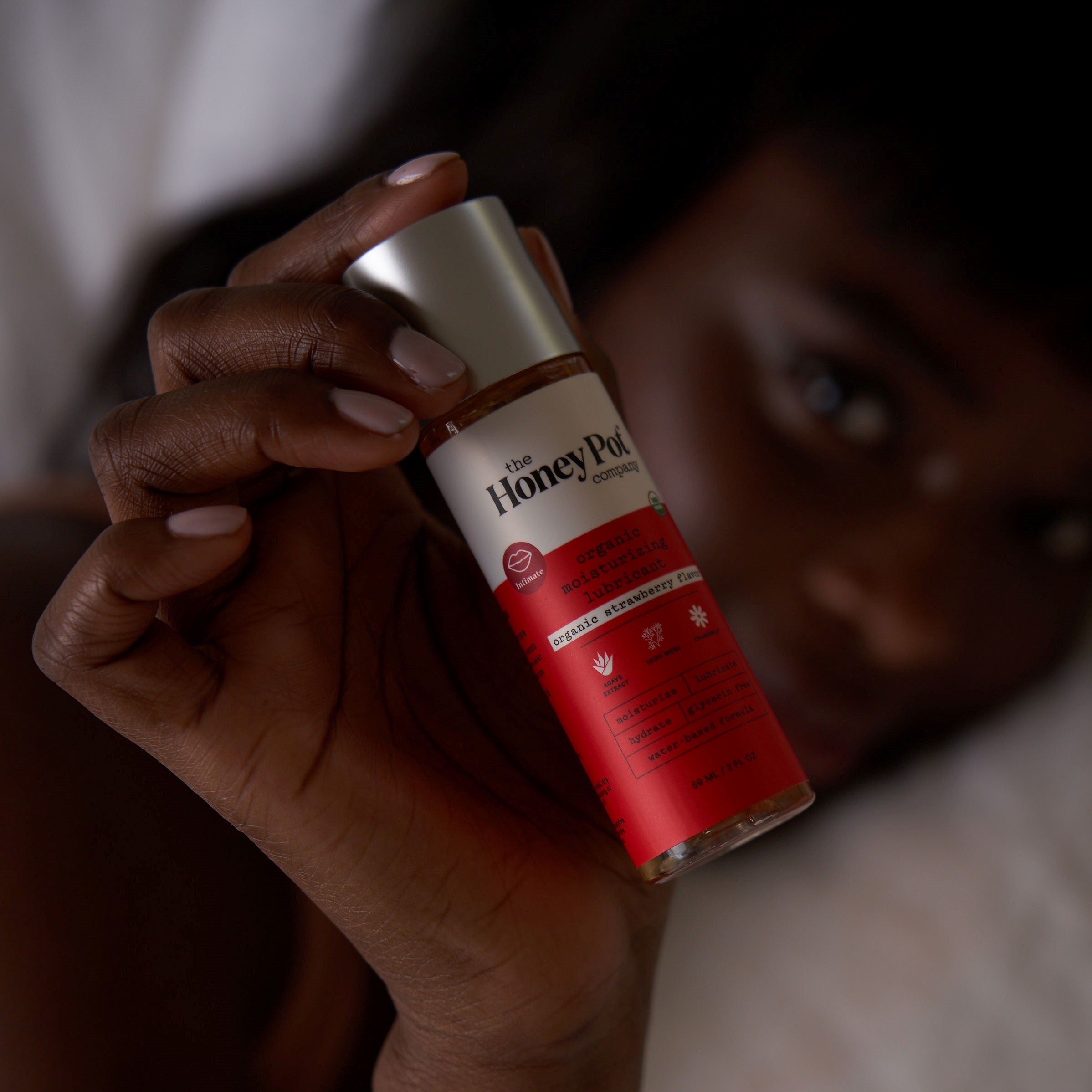 Sex
Sexual Health Awareness Month | Let's Learn About Lube/Why Do You Need It?
Lubricant, aka lube, is one of the best possible things you can have in your house as a sexually active human – whether it's for solo, partnered, or group sex. Since our sex education growing up is awful and is about everything you can do to NOT to get pregnant and NOT get STIs/STDs – nowhere in our sex ed do we learn about sex for pleasure. Lubricants would be one of the first chapters if we did learn about sex for pleasure.

There is so much pressure to "perform" during sex, including maintaining an erection, having vaginal wetness, knowing lots of skills, etc. So, we don't learn about sex for pleasure, and then we're expected to be excellent at it? Yeah, no. Because of this disconnect, tons of misconceptions and stigmas around sex need to be busted and broken. One of these misconceptions is that if someone is turned on, they will be hard or wet. FALSE. It's not incompetence. Not all vaginas can self-lubricate the same amount over time for many different reasons (hello, antidepressants, hormones, depression, immune disorders, rigorous exercise, oral contraceptives, and stress, what up!)

Arousal non-concordance is when there is a disconnect between the mental/emotional experience of pleasure ("I love how my partner looks and feels – and I'm so turned on") and your body's response (e.g., whether or not a vagina is lubricating itself). Using lube typically makes any penetrative sexual adventure more enjoyable anyway (and is a requirement for anal penetration), so why not use it all the time and take away the physical or mental block to orgasm? There is no reason why vaginal dryness needs to get in the way of your pleasure. USE LUBE.

Having extra lubrication (literally) enhances pleasure, particularly during penetrative play such as vaginal or anal sex and masturbation with penetrative toys. It's also great for external play (try it next time during clitoral play.) Used vaginally, lube mimics and enhances the naturally occurring lubrication that some – but not all – vagina-owners experience. Check out HoneyPot's agave or strawberry lube for a great water-based option.

During anal play, lube is essential because the anus doesn't self-lubricate. So, it will prevent tearing of the delicate tissue inside the rectum, which is painful and can create a higher risk for STIs. It's important to note that re-application might be necessary to maintain comfort and pleasure, so anyone giving penetration during anal should check in with the person receiving the penetration regularly! Finally, for all genders, lubricant is a powerful masturbation tool. Whether there's penetration, stroking, or massaging, lube can add to the experience in so many wonderful ways. However, if you're using a toy, please ensure that the lube you choose is compatible with the toy's material.
Lubricants are for all humans – all genders, sexual orientations, romantic orientations, relationship designs – lube is for everyone. Now, if you search for some lube right now, you'll typically find four main categories (and then there are some hybrid options): Water-based, oil-based, aloe-based & silicone-based.
Water-based lube is excellent because it can be used with any toy material, any condom material, and is super easy to wash off with water or soap and water. However, it can evaporate faster than other kinds of lube, so just keep it handy so you can re-apply as needed. When looking for a water-based lubricant, ensure it's the first ingredient you see on the list.
For example, The Honey Pot Co.'s agave hydrating lubricant is water-based, and this is the ingredient list: "(Certified Organic by CCOF) Water (Aqua), Chamomilla Recutita Flower Extract*, Tequilana Azul (Agave) Leaf Extract*, Flavor (Aroma)*, Carrageenan, Citrus Limon (Lemon) Extract*, Citrus Grandis (Grapefruit) Fruit Extract*, Juniperus Communis Fruit Extract*, Rosmarinus Oicinalis (Rosemary) Leaf Extract* – *Certified Organic Ingredient."

The Honey Pot Company provides lubricants in 2 flavors that have been clinically tested and proven to*:
Maintain hydration for up to 2 hours
Provide a natural and smooth feeling
Help maintain a healthy vaginal pH range
Make intercourse more enjoyable
Oil-Based lubricants are long-lasting and can often be used as massage oil , but – and this is a big but – oil-based lubricants cannot be used with latex condoms. The oil breaks down the latex. Also, be careful about stains, if that matters to you since it is oil-based! When buying an oil-based lubricant, make sure oil is the first ingredient on the list – and that the list isn't very long.

Aloe-based lubricants are thicker and more viscous than water, and oil-based lubes can offer additional benefits, such as hydration. The downside? Some folks are allergic or sensitive to aloe vera vaginally. The only way to find out is to try, however. Just like water and oil-based, make sure aloe vera is the first ingredient
Silicone-based lubricants are wonderful because silicone is hypoallergenic, very slippery, and can be used with all types of condoms. It's also ideal for anal play (unless you find a water-based lube designed for anal play!) Just don't use silicone lube with silicone toys. And just like the above examples, a good silicone lubricant will have a short-ish ingredient list, with silicone being the number one.
Now that we've discussed why lubes are so important, why there doesn't need to be a stigma or shame associated with using them, and we've gone over the main types and who they're for, let's talk about what ingredients to avoid when picking out a lubricant. Whether you use water, oil, aloe, silicone, or hybrid lubricant, a handful of ingredients can mess up a vagina's pH. This is why you want to get lubes from a company that understands vaginal pH (cough *honey pot* cough).
Ingredients to pay attention to when buying lube:

Glycerin is a common ingredient in lubes because it helps retain moisture and taste better. But, it's a sugar alcohol that can disrupt the pH of a vagina leading to bacterial growth, yeast infections, and potential UTIs. Not all glycerin is the same, and natural glycerin is less likely to cause unwanted experiences, but if you are generally sensitive to yeast infections, BV, etc. – steer clear.

Nonoxynol-9 is an ingredient that kills sperm and is found in many spermicides. However, because it kills sperm, it also kills bacteria (both good and bad). Whenever vaginal bacteria goes off balance, it can result in infections like bacterial vaginosis (BV) or yeast. Nonoxynol might also cause uncomfortable inflammation and irritation of the vagina and vulva.
Lubricant is truly an essential tool to enhance sexual pleasure for everybody. Anyone can use lube to support safe and pleasurable penetrative sex. Using lube doesn't mean there is something wrong with you. Quite the contrary – it means you prioritize your pleasure and want to ensure that your sexual play is safe and fun.

*In a clinical study of male & female sexually active couples aged 18 -70 after 2 weeks of use.